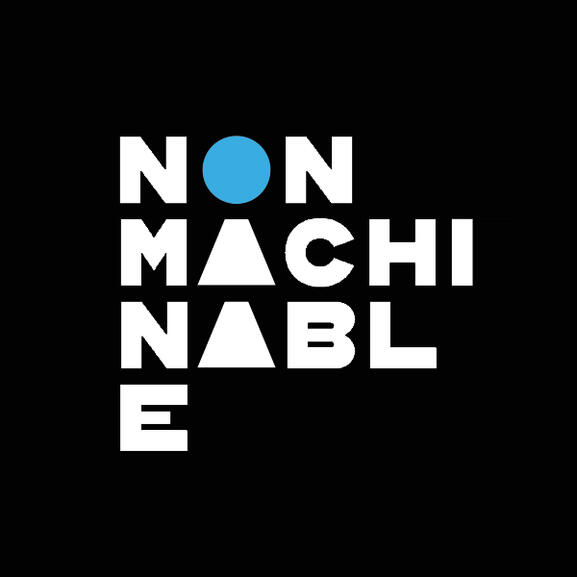 Optically interesting
zines, books, and artist's publications.
We're NONMACHINABLE, est. 2022 — we specialize in zines and artist publications featuring collage, visual poetry, abstract comics, stamp art, mail art, asemic writing, and other optically interesting material with a focus on work made by trans people, queers, artists of color, and women.Browse our shop at shop.nonmachinable.com!
© 2022 NONMACHINABLE. All work belongs to the respective artists.
Frequently asked questions
What kind of material do you distribute?
We are interested in "optically interesting" material–especially collage zines, abstract comics, mail art, stamp art, and works of visual poetry. Weird, unclassifiable stuff is also likely to be of interest to us, but the closer it is to one or another of those areas, the more likely it is that it'll be a good fit with us.How do I sell my zine or publication with Nonmachinable?
Our first open submission period launched in May 2022. Individual artists can submit their work here, and publishers can do so at this link.Join our occasional mailing list to receive email reminders about open submission periods and other news. We are actively building a catalogue of work from trans people, queers, artists of color, and women–if that's you, and if you are producing work that you think is a good fit with us (see above), drop us a line at any time. We'd love to see your work!What are your terms?
We're currently offering a consignment period of up to a year, with a 50/50 split on copies sold. BIPOC artists receive a 60/40 split in their favor. We distribute funds from the sales twice per year. We work hard to build an audience for the artists we work with, and promote our catalogue online and at in-person events when possible.I live outside the US–do you work with international artists?
Yes! In fact, we're especially interested in working with international artists right now to help them get publications out to a broader US audience without the hassle and expense of international shipping.I have a zine I think you would like! Can I send it to you?
We have an unquenchable thirst for seeing new work, and you're welcome to send us a zine for us to peruse and enjoy! Our mailing address is NONMACHINABLE ℅ allison anne, PO Box 23193, Minneapolis, MN, 55423 USA. Do note that zines sent to us will only formally be considered as candidates for distribution if they arrive more-or-less concurrently with a completed submission form. Individual artists can submit their work here, and publishers can do so at this link.How can I place an order? Do you ship internationally?
Our catalogue is available to browse online at shop.nonmachinable.com. We are based in the U.S. and ship to any country that USPS currently serves (due to the pandemic, there are occasionally shipping restrictions). Shipping costs are calculated by country using current rate information from the USPS. Our international shipping options are currently being tweaked; please email us for a rate quote for smaller packages.
About us
NONMACHINABLE, purveyors of zines and artist's books, was founded in 2022 by the artists allison anne (they/them) and Jeremy P. Bushnell (he/him). We publish, promote and disseminate collage, asemic writing, visual poetry, abstract comics and other optically interesting publications, with a focus on work made by trans people, queers, artists of color, and women.
Guide to Zine Distros
NONMACHINABLE maintains a resource digitally and in print about zine distros, zine-friendly shops and other resources.Check out the current online version here at tinyurl.com/GuideToDistros.Print copies are available here.We're working on an update and need your help! Do you know about a zine distro, shop, library or resource that's not already listed? Tell us all about it by August 31st! Distros and shops will appear online and in print. Other resources will appear online due to space considerations.Submit at tinyurl.com/ZineGuideUpdateWe're also seeking optically interesting black-and-white cover art for the next print edition! Our first printed edition of the guide featured the wonderful piece "Texture Cartography" by Jam Doughty!We are looking for optically interesting art, and especially enjoy collage, asemics, abstract comics, visual poetry, mail art, rubber stamp art, and things of that nature. There's no limitation on genre, but take a look at our catalog and see what we're all about prior to submitting!Submit one piece of black-and-white art for consideration at tinyurl.com/ZineGuideCover.